Fun for Your Dog at Our Dog Daycare
Do you have a fun-loving, high-spirited pup that needs to let out some energy? Perhaps you have a great puppy that wants to play with some canine friends?
If so, St. Francis Pet Resort is the place for your pup! Your dog will love doggie daycare with the doggy pool and play equipment and will go home tired and happy. 
When you leave your dog with us, our expert staff places your pet into a group based on his or her size, temperament, and personality. Each group has its own Daycare Counselor in individual play yards that are indoors, outdoors, or both.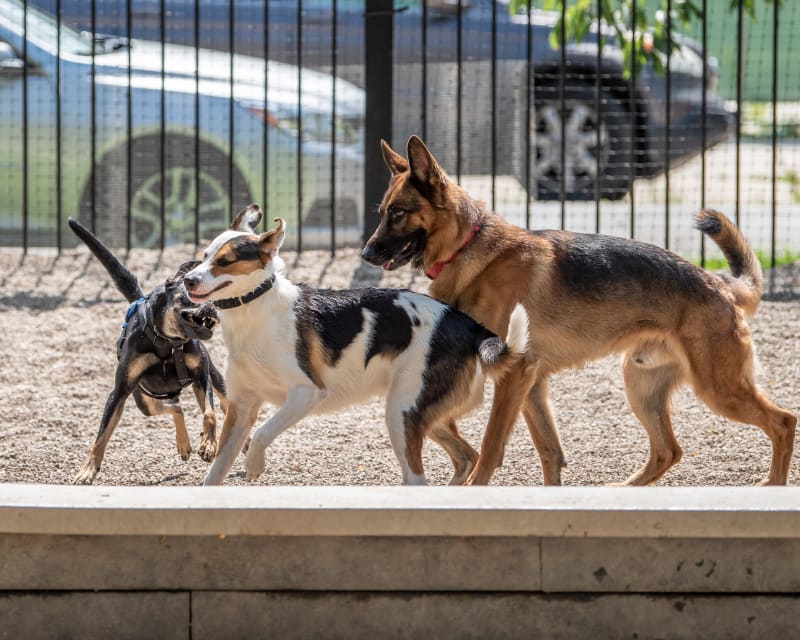 Doggie Daycare Schedule
For your convenience, half-day, morning or afternoon, and full-day doggie daycare sessions are available every day of the week.
Full-Day Sessions
Tuesday through Friday | 7am to 6pm
Half-Day Sessions
Tuesday through Friday
Morning | 7am to 12 pm
Afternoon | 1pm to 6pm
Guest Requirements
All dogs are required to pass an assessment prior to participating to ensure that they play well with others. All dogs must also meet the following vaccination and policy protocols to attend daycare:
A current Rabies and Distemper/Parvo vaccine
Current on Canine Influenza vaccines to include both H3N2 and H3N8
Bordetella vaccine every 6 months
A negative fecal parasite exam every 6 months
Pet must be on a monthly intestinal parasite treatment such as Sentinel or Heartgard.
Your Pet's Home Away From Home